Agile Development
Agile development is a software development approach that emphasizes shorter delivery cycles with frequent customer collaboration and faster responses to change (less rigid plans). It favors working code over more disciplined and rigid documentation and tool-based software development methodologies (see the Agile Manifesto).
Kanban is a framework for Agile development that visualizes workflow with a kanban board in order to balance demand with available capacity and bottlenecks. Scrum is another framework that offers iteration techniques (called "Sprints") and requirements management with "User Stories".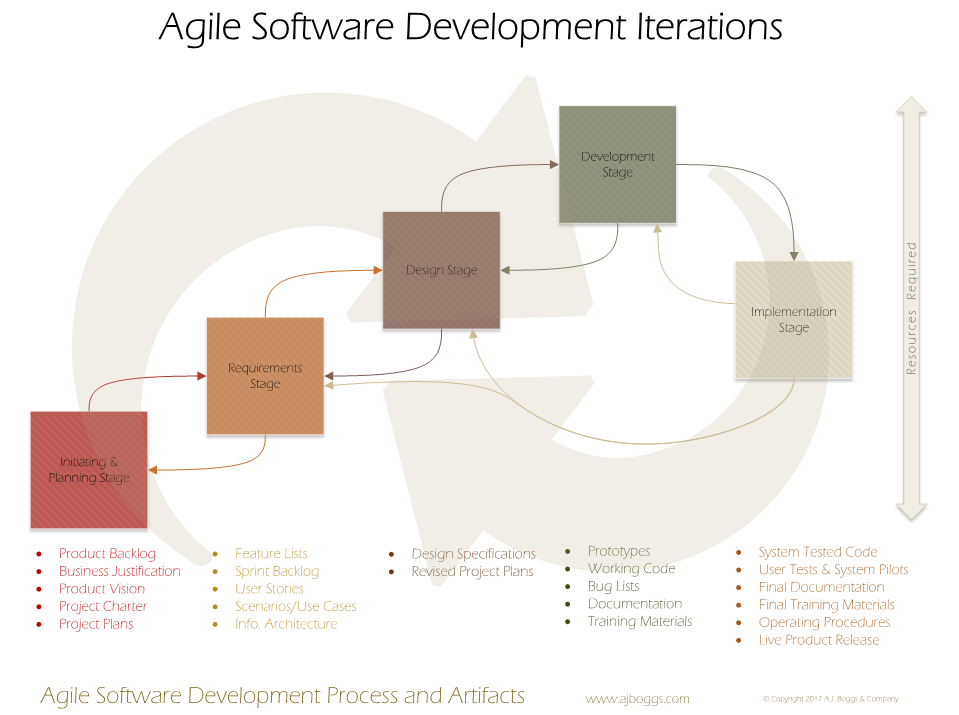 The Agile Alliance provides a the following 12 principles represented in the Agile Manifesto for successful implementation of Agile development.
Customer Satisfaction through early and continuous delivery of valuable software
Embrace changing requirements. Agile processes harness change to give customer a competitive edge
Frequent delivery of working software. Shorter timescale deliverables
Daily cooperation between developers and business analysts through the lifespan of the project
Build projects around motivated individuals and provide them with the environment and support needed to get the job done
Face-to-face communication is key to effectively conveying information between team members
Working software is the primary measure of progress
Agile processes promote sustainable development. Any project is maintainable indefinitely
Continuous attention to technical excellence and clean code standards
Simplicity — the art of maximizing the amount of work not done — is essential
The best architectures, requirements and designs emerge from self-organizing teams
Teams reflect at regular intervals on internal effectiveness and make adjustments accordingly
Agile is a powerful methodology to build great software to achieve business objectives with a flexible and often faster, less costly approach.
Intereste din implementing Agile development? See the that U.S. General Accounting Office (GAO) report GAO-12-681, "Effective Practices and Federal Challenges in Applying Agile Methods"). Agile development relies on the adherence to clean code standards by developers.